When kids are young, they can sit up straight, but when they are in a trailer, they may fall asleep, or slide to one side while they are seated.
What may happen is that during your ride, you find your kid slouched over to the side, and they may pull themselves up, but eventually they get tired and remain slouched over.
Obviously this is an uncomfortable situation for the kid.
My solution to this problem is to support them with a Thermarest on each side to keep them upright. They may lean her head against the Thermarest when sleeping, but they are still upright.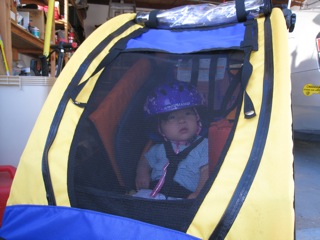 You can see my daughter on her first ride in the Burley (age 11.5 months)! She is very comfortable and won't slouch over to the side during the ride.
As the child gets older, you can remove one of the Thermarests and take the remaining one and wrap it around the child in a single layer. I have found that the single Thermarest works fine for her as a two year old. (She is strong enough to pull herself up, but when she naps, she still leans to one side, and without the single Thermarest, she looked very uncomfortable.)
One note of caution: do not use the Burley Snuggler while riding a bicycle. It may look tempting, but the Snuggler will not accomodate a helmet, which is very important while riding a bike.