Mei and I are training to do the Grizzly Peak Metric Century. Tomo has done the GPC ride 3 times, so it's only fair that Mei gets to experience it too!
It's been raining every weekend for the past couple of weeks, so my training intensity hasn't been as high as I would like it, but today the weather was beautiful and we had to go out and ride!
This century prep ride goes up the steepest hill on the Grizzly Peak Metric Century, which is McEwen. It also goes up Pig Farm Hill, which has a great name!
Mei had a great time–we even got to stop for an ice cream cone, so what's not to love about that?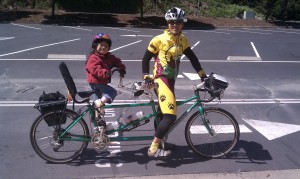 Here we are after McEwen and a bit of food. Thanks to Josh for the great picture!