Mei and I are training to ride for the GPC century metric loop and today we tackled the century south loop, even though we won't ride it for the big day.
We rode from home in Oakland and went through Montclair and up BBR–if you haven't done that it is gorgeous and a great way to get to Skyline from Montclair. It is Burdeck-Butters-Robinson or maybe Butters-Burdeck-Robinson. Either way, it's secluded and beautiful. You can enter the route by a little bike path right by the freeway exit at Mountain and Joaquin Miller. It's much nicer than the ride up Joaquin Miller.
We started a little before 9 AM, so we got a head start on the GPC folks, since we didn't have to go up Pinehurst and Redwood Rd. It was cold and overcast when we started, and Mei kept wondering where the Grizzly team was. I told her it might be a while before they caught up, and she got interested because the route takes us past the zoo. Mei was a little cold, but surprisingly she didn't want to get a hot cocoa at Starbucks and we continued on after a little trail mix break.
I told her we would take a lunch break at Lake Chabot, and the sun was coming out so that was a great break as we ate at a sunny picnic table.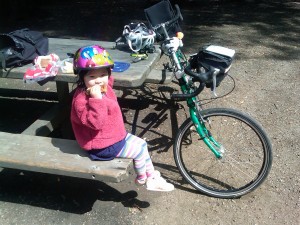 After the lunch break, she wanted to play in a playground, and I knew there is a nice one right as you turn onto Quail Rd. She quickly made friends with a couple of kids there and she made several cookies out of sand, which I of course had to sample

.
As we left, it was great timing because a bunch of folks from the century prep ride came along and that always gets her excited and motivated to stomp on the pedals and keep up for as long as we can as she smiles and waves to all of the riders. I especially wanted Michael to give a special message to Nancy because we miss her and want her to get better quickly! Also a get well to Holly and Ann who couldn't lead today due to injuries!
We chugged our way up Redwood Rd. and I was feeling pretty tired. We took a break at the start of Pinehurst as Brian, Janet and another rider passed by and we continued on Pinehurst back home.
It was a brutal ride up Pinehurst that was made tolerable by Mei's amazing energy at the end of the ride. Right at the top of Pinehurts I was really suffering, but she was excited to finish the hill and demanded that we do super speed, so we sprinted (in slow motion) up to the top and had an easy descent down Shepherd Canyon back home. Thanks to all the ride leaders and fill-ins. It looks like everyone was having a good day.